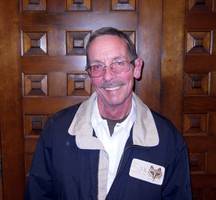 20 Dec

2012 Route Driver of the Year Quarterly Winner: 
Jim Milton, Fox Vending, Inc., Bridgeview, Ill.

He's now working for the second generation, but is as thorough and adaptive as ever.

If a job makes you happy you never work a day in your life. That's the motto of Jim Milton, a route driver at Fox Vending, Inc. in Bridgeview, Ill. and the fourth quarter winner of the 2012 Route Driver of the Year contest.

Milton has worked for Fox Vending for 36 years. In fact, the current president Jennifer Fox, remembers seeing him in the warehouse when she visited the family business as a young child. Now at the helm, Fox is grateful to have a dedicated, loyal and hard working employee whose customers never complain about him. "From the day I started working here 12 years ago Milton is the guy that I can always count on to take care of our customers and get the job done," said Fox.

Milton was offered management positions in the past, but he loves what he does — working with people. He also has a great sense of product inventory needs. "He goes out in the morning, and comes back without a case of pop on the truck," said Fox, "because he knows his customers."
Great customer service includes communication
It's not just Milton's dedication to the job, but also his attitude. Milton doesn't call in sick, is always on time and is loyal. "(He) is proactive at solving problems," said Fox, "(and) makes suggestions on how we can do better."
If he sees an issue at an account, he keeps Fox updated, instead of being passive and waiting for management to notice. A recent example was a location that kept unplugging a soda machine. Milton brought it to Fox's attention and based on the location's profits, they decided to move it.
Milton is methodical and thorough, but can still adapt to new technology, such as when Fox Vending added MEI's EASITRAX vending management software. "Going to handhelds from paper tickets was intimidating for some drivers," said Fox, "Milton could have pushed back, but he was onboard and willing to learn."
Fourth quarter vending route driver award
Milton is being recognized by Kraft Vending & OCS as well as Automatic Merchandiser as the fourth quarter 2012 winner with a chance at the Route Driver of the Year finalist spot and trip to the National Automatic Merchandising Association OneShow in April. Nominations were scored on years as a driver, number of machines serviced, miles traveled, accidents and citations, sick days, speed, thoroughness, likability, number of compliments, friendliness, appearance, condition of truck, empty spirals and sales.
"Just his long term dedication to our company is an example of how he's gone above and beyond," added Fox, who was thrilled to hear he'd won. "Honestly? I have no idea what we'll do when he decides to retire."